ENCORE
Fuel the $5 frenzy!
Since the inception of Paparazzi, we've been committed to providing fabulous fashion-forward accessories at an unbeatable $5 price. Just as quickly as the designs rotate, new pieces make their way to the spotlight, being hailed as the next must-have accessories and fueling the $5 frenzy we're known for.

Last September, we asked YOU which pieces you would bring back for another chance in the spotlight and the response was incredible! During the month of February, the accessories you demanded have returned for their ENCORE! Get ready to fall in love all over again with crowd pleasers like, Winter Ice, or Vintage Romance, or rediscover pieces that made your heart stop, such as Yas Queen or HEARTBEAT Street. All in all, seven unforgettable fan favorites will make their way back to the spotlight this month – but only while supplies last!

Stock up now by clicking on the ENCORE tab of the shopping cart in your Back Office.

Happy shopping!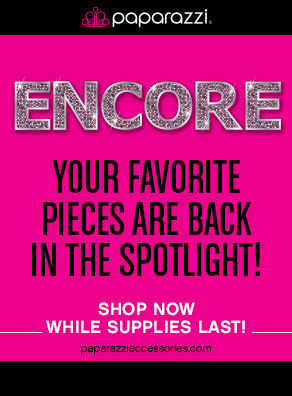 Double Hostess Rewards
Double The DAZZLE
It's always rewarding when a Paparazzi customer decides to take the leap and become a Hostess. Not only is it an easy way for them to earn free jewelry, it gives you a chance to dazzle them with a look inside the business side of feeding $5 habits, all while expanding your network of $5 fanatics.

Because of their pivotal role, keeping your Hostesses happy should be a top priority for every Consultant! In fact, rewarding your Hostesses is such a crucial part of growing your Paparazzi business, that Paparazzi includes Hostess Rewards in the way that you order product every day! Every 20 PV (10 pieces) you purchase on one order is accompanied by Hostess Rewards in the form of a free accessory!

But this month we're DOUBLING the Hostess Rewards you receive with each qualifying order! That means you'll receive TWO free accessories for every ten pieces you buy! As an added bonus, orders that qualify for the Show Rebate (1000 PV or more) will receive Hostess Rewards on top of the rebate! Even Starter Kits will receive Hostess Rewards—but only during the month of February!

$99 Preview Pack = 3 Hostess Rewards
$299 Small Home Party Starter Kit = 12 Hostess Rewards
$499 Large Home Party Starter Kit = 20 Hostess Rewards

Are you ready to double the dazzle?

Qualifying orders must be received between 12:00 AM ET on February 1, 2020 and 11:59 PM ET on February 29, 2020. Double Hostess rewards will only be included on Consultant orders. Offer does not extend to online parties hosted via the Party Dashboard in the Consultant's Back Office.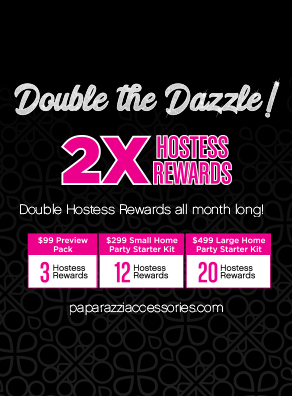 Rock The Runway
It's Time To Strut Your Stuff!
You've watched from the crowd as Paparazzi legends have dominated the stage, but now it's your turn to write yourself into a spot on our rhinestone-studded runway as one of our 2020 Zi Collection Signature Series models! We have a blank space just waiting for you to put the pen to paper and make this a chapter to remember! Do you think you have what it takes?

This fall, eight lucky Consultants will write their own stories of success as they claim their corner of the catwalk. These individuals take their place in the spotlight and light up the runway as we kick-off the hottest Paparazzi party of the year: Unwritten. As the music thumps, the cameras flash, and the crowd screams, each model will strut their stuff as they debut the highly coveted 2020 Zi Collection Signature Series.

Not only will our Zi Collection models be the very first to get their hands on these iconic accessories, their moment in the spotlight will be immortalized as each one is adorned in a necklace from the collection that has been lovingly named after them by the Paparazzi stylists! When the 2020 Zi Collection is released to the masses this fall, these Paparazzi statement-makers will become household names. With their names on everyone's lips, we'll have just have one question for them: can we get your autograph?

Beginning February 1, 2020, the top two point earners each month through May 31, 2020 will be crowned as our 2020 Zi Collection models.* There are many ways to earn points, so work it!

15 points for every personally-sponsored Consultant who registers for Unwritten**
Between 30 and 75 points for enrolling a new Consultant with one of our three Starter Kits:
$99 Preview Pack = 30 points
$299 Small Home Party Starter Kit = 50 points
$499 Large Home Party Starter Kit = 75 points
1 point for every 50 PV – including online customer orders!
100 points for advancing in rank
50 points for every personally-sponsored Consultant who is PAID AS a Director (or above)

Start practicing that signature strut and get ready to flaunt it! It's time to access your inner rock star and claim your corner of the catwalk!

To see the regularly updated Leaders' Board, check out the 'Rock the Runway' page on the Unwritten website, paparazziconvention.com.

*Consultants who have achieved a Lifetime Rank of Executive Producer (or above) prior to February 1, 2020 will not be eligible. Additionally, those who have been honored by having a Zi Collection piece named after them in prior years will not be eligible for the 2020 competition. **Points accumulated for each personally-sponsored Consultant who registers for Unwritten will roll over from month-to-month throughout the contest period, while all other points will be removed at the beginning of each month. All winning Consultants must be registered for Unwritten and have a minimum of one personally sponsored Consultant registered for Unwritten by the end of the month in which they win. Points for advancing in rank will be added after commissions have been finalized for the month (around the 10th of the following month). Only one Consultant from the winning account will be invited to rock the runway as a Zi Collection model. Winners must be available to attend runway practice scheduled for the morning of Monday, July 27, 2020 (time subject to change).