Rock the Runway
Claim Your Corner of the Catwalk!
The fame that comes from strutting your stuff on the catwalks of Paris, Milan, or New York is fleeting, but becoming a Zi Collection model is the stuff Paparazzi legends are made of. Think you have what it takes to rock the runway?

This August, eight lucky Consultants will get to claim their corner of the catwalk as they kick off the hottest Paparazzi party of the year: ASPIRE. As the music thumps, the cameras flash, and the crowd screams, each model will take their turn in the spotlight, decked out in bling as they debut the highly coveted 2018 Zi Collection Signature Series.

Not only will our Zi Collection models be the very first to get their hands on these iconic accessories, their moment in the spotlight will be immortalized as each one is adorned in a necklace from the collection that has been lovingly named after them by the Paparazzi stylists! When the 2018 Zi Collection is released to the masses this fall, these Paparazzi powerhouses will become household names. With their names on everyone's lips, we'll have just have one question for them: can we get your autograph?

Beginning February 1st, the top two point earners each month through May 31st will be crowned as our 2018 Zi Collection models.* There are many ways to earn points, so work it!

• 25 points for every personally-sponsored Consultant who registers for ASPIRE†
• Between 30 and 75 points for enrolling a new Consultant with one of our three Starter Kits:
o $99 Preview Pack = 30 points
o $299 Small Home Party Starter Kit = 50 points
o $499 Large Home Party Starter Kit = 75 points
• 2 points for every 10 PV – including online customer orders!
• Between 75 and 150 points for advancing in rank:
o Director & Premier Director = 75 points
o Executive Director & Producer = 100 points
o Premier Producer = 125 points
o Executive Producer or above = 150 points

Start practicing that signature strut and get ready to flaunt it! It's time to access your inner rock star and claim your corner of the catwalk!

To see the regularly updated Leaders' Board, check out the 'Rock the Runway' page on the ASPIRE website, PaparazziConvention.com.

*Consultants who have achieved a Lifetime Rank of Executive Producer (or above) prior to February 1, 2018 will not be eligible. Additionally, those who have been honored by having a Zi Collection piece named after them in prior years will not be eligible for the 2018 competition. .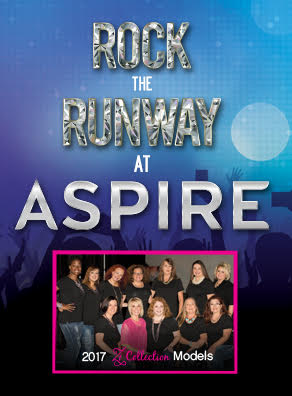 You Bet Your BLING!
Enter to win fabulous prizes!
The glittery lights of Las Vegas attract millions of visitors every year. Some are enticed by the warm desert sun, some seek out the finest foods and entertainment available, while others choose to pamper themselves with a visit to the spa and a night on the town. No matter what the initial attraction may be, there is no denying that those who make the trek to fabulous Las Vegas are on a quest for an experience they'll never forget.
If you're coming to Las Vegas this fall for ASPIRE, you already know you're in for the time of your life. Training, recognition, shopping, and giveaways are just some of the many activities we have planned to leave any Paparazzi Consultant inspired and ready to take on the world.
And now we've upped the ante!

Those who join us in Las Vegas for ASPIRE will get to bet their BLING and enter to win some fabulous prizes! Fashion Fix subscriptions, free convention tickets for 2019, and more are all up for grabs! Here's how it works:

• Step 1: Collect as many BLING Bits as you can between May 1st and June 30th.
• Step 2: Join us in Las Vegas for ASPIRE! We'll have all of your BLING Bits waiting for you, so you don't have to worry about losing them or forgetting to bring them.
• Step 3: Redeem your BLING Bits for an INSTANT prize, or BET your BLING for a chance to win one of our larger prizes.

You can earn BLING Bits for a variety of reasons! The best part is – there is NO LIMIT to the number of BLING Bits you can earn! Here's how you can stack the deck in your favor:

• Register for ASPIRE = 1 BLING Bit
• Personally Sponsored ASPIRE Registrant = 1 BLING Bit

• Sponsor New Enrollments (awarded to Sponsor):
o $99 Preview Pack = 1 BLING Bit
o $299 Small Home Party Starter Kit = 3 BLING Bits
o $499 Large Home Party Starter Kit = 5 BLING Bits

• Join Paparazzi (awarded to new Consultant):
o $99 Preview Pack = 1 BLING Bit
o $299 Small Home Party Starter Kit = 3 BLING Bits
o $499 Large Home Party Starter Kit = 5 BLING Bits

• Personal Volume
o 200 PV = 1 BLING Bit

• Rank Advancement
o Director & Premier Director = 1 BLING Bit
o Executive Director & Producer = 3 BLING Bits
o Premier Producer or above = 5 BLING Bits

• Every 10 BLING Bits = 1 BLING Bit

When you arrive at ASPIRE, you can either redeem your BLING Bits for an INSTANT prize, or you can BET your BLING for a chance to win one of our larger prizes. We're giving away exclusive Paparazzi branded collectibles, party supplies, and more!

While all Consultants will be eligible to earn BLING Bits, only those who are registered attendees at ASPIRE will be able to redeem them.

Are you ready to ASPIRE? You bet your BLING!

Terms and Conditions
You Bet Your BLING promotion will include all activity between 12:00 AM ET on May 1, 2018 through 11:59 PM ET on June 30, 2018. Those who qualify for BLING Bits will be notified weekly by email. Additionally, a notification will be included in Consultant orders as a cumulative total of 200 PV is reached. BLING Bits will be available for pick up at the registration desk for ASPIRE onsite at the Hard Rock beginning at 10:00 AM on Monday, July 30, 2018.
BLING Bit prizes will be available on a first come, first served basis from 10:00 AM until 7:00 PM on Monday, July 30, 2018 and from 6:30 AM until 8:30 AM on Tuesday, July 31, 2018.
Prizes can only be redeemed by the Consultant whose ID number is written on the winning BLING Bit. A Consultant must be a registered attendee and must be present at ASPIRE in order to redeem their BLING Bits and claim their prizes.
Prizes not redeemable for cash. Winners must be in good standing with Paparazzi Accessories and compliant with the terms and conditions set forth in the policies and procedures. Paparazzi reserves the right to adjust giveaway prizes in the case of unforeseen circumstances. In such cases, Paparazzi may substitute a prize.