Choose Your Own Hostess Rewards
FREE Accessories!
If you think you've seen a $5 frenzy before, just wait until the 2018 fall collection makes its debut! Don't be surprised when your calendar fills with parties and events, where customers will be anxiously waiting to feed their $5 habit. Keeping those Hostesses happy with free bling is a surefire way to open the door to repeat bookings and priceless publicity for your growing business.

Did you know that Paparazzi includes Hostess Rewards whenever you order new inventory from the Back Office? Every 20 PV (10 pieces) you purchase on one order is accompanied by Hostess Rewards in the form of a FREE ACCESSORY. These free accessories are randomly selected from a stash of previous bestsellers and customer favorites. But not this month!

During the month of September, we are giving you the power to choose your own Hostess Rewards!

As you stock up on your new fall favorites and qualify for Hostess Rewards, you'll be presented with a variety of accessories to choose from for FREE. With a broad range of styles and designs to choose from, every Hostess is sure to find something they'll love!

Party On!

Orders must be received between 12:00 AM ET on September 1, 2018 and 11:59 PM ET on September 30, 2018. Wholesale Consultant orders only. Retail orders are not eligible. Hostess Rewards accrue on each single order. Orders cannot be combined to qualify. Hostess Rewards will be preselected for Fashion Fix orders processed on September 20th.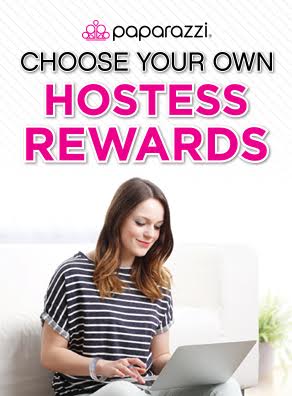 ENCORE
Bring Your Favorite Accessory Back!
When you think of your bestselling piece of Paparazzi jewelry, what comes to mind? Can you remember the party you were at when the frenzy began? Do you still receive calls and text messages from your loyal customers, asking if their favorite accessory has returned to your displays? We want to know what pieces YOU think deserve another chance in the spotlight! Through September 30th, send the name and/or a picture of the accessories you feel deserve an encore to encore@paparazziaccessories.com.

You never know when they might step back into the spotlight!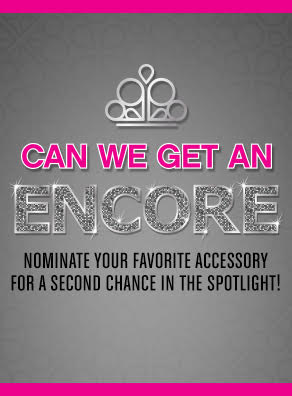 Selfie September
SNAP A SELFIE AND WIN!
Paparazzi has given Consultants the chance to dream big. Whether they aspire to book a plane ticket for their dream vacation without a thought, pay off their car loan, buy that new home they've always wanted, quit their day job or just have a little extra spending cash, Paparazzi has been the catalyst.

Just by allowing yourself to aspire for something greater, your confidence grows! These newfound levels of confidence not only push you to reach for something more, they lift and encourage everyone around you to dream a little bigger, too!

During the month of September, we're inviting you to share your aspirations on social media with the Selfie September sweepstakes! Share what you aspire to be and you win BIG! Here's how it works!

Print off the official Selfie September message strip, and fill it out with your own personal touch. What do YOU aspire to be?
Fill in the blanks – and don't forget your Consultant ID. Snap a selfie of you wearing Paparazzi and holding the message strip. Let your pets, children, friends, and family support you OFF camera.
Post your selfie on Facebook, Twitter, and/or Instagram using the hashtag: #ASPIREPaparazzi and tag us!

We'll select a random winner EVERY DAY during the month of September. Every selfie you post is another entry into the contest, with our grand prize drawing happening on October 1, 2018.

Our daily winners will receive a range of prizes like Paparazzi branded apparel, business tools, new and exclusive jewelry, and more!

Our GRAND PRIZE WINNER will receive a Paparazzi selfie kit valued at over $1000! Grand prize includes:
A selfie light
A selfie stick
Paparazzi backdrop
Tripod
A phone call from one of the Paparazzi stylists
25 pieces of fall inventory based on your individual style and taste
The ultimate selfie camera - a Canon g7x Mark II!

Are YOU ready to celebrate your Paparazzi aspirations? Show us what you're made of during Selfie September!

Don't forget! Your customers can enter our Selfie September Sweepstakes, too. Just have them follow the instructions above (they can leave the Consultant ID field on the official message strip blank). Make sure your posts are public so that we can find you!

Winners must be following Paparazzi Accessories on the social media platform on which they submit their photo. Multiple entries will be permitted. There will be one winner every day during the month of September and they will be announced Monday through Friday on our official Facebook, Twitter, and Instagram accounts. Weekend winners will be announced on the following Monday. Daily winners will still be included in the grand prize drawing at the end of the month. Winners should contact us within 24 hours via email at promotions@paparazziaccessories.com to claim their prize. Actual account holder (18 years of age or older) must be the main subject of the photo submitted in order to be eligible.