Resolve to Party
Free Accessories in All Starter Kits!
Resolve to Party!  Free Accessories in All Starter Kits!
The New Year is here, and at Paparazzi, we have one resolution for 2017: to

PARTY!

 
 


Parties

are related to special occasions.  We

party

when we reach new milestones.  We

party

to celebrate those we love.  Sometimes we throw a

party

just so we can see our closest friends and enjoy their company!  A good

party

leaves every guest feeling happy, connected, and uplifted… Sound familiar?  There's a reason that we say that Paparazzi allows you to

party

for a living!
 
January is the perfect time to invite everyone you know to join the Paparazzi

party

, because every Consultant who enrolls this month will receive extra accessories for FREE inside their Starter Kit!
 
Preview Pack

($99) – 5 FREE accessories (15% more product)
Small Home Party Starter Kit ($299) – 25 FREE accessories (20% more product)
Large Home Party Starter Kit ($499) – 50 FREE accessories (25% more product)
 
Don't forget!  The Large Home Party Starter Kit includes a FREE ticket to ALL Access, which is the BIGGEST Paparazzi

party

of the year! 
 
Let's get this

party

started!
 
*Starter Kit purchase must be made between 12:00 AM ET on January 1, 2017 and 11:59 PM ET on January 31, 2017.  Free extra pieces will be included in the original order. Offer only available to new Paparazzi Consultants.
¡Propóngase Festejar!
¡Accesorios gratis en todos los Starter Kits!
El Año Nuevo está aquí, y en Paparazzi, tenemos nuestro propósito para este 2017:

LAS FIESTAS!





Las fiestas

están relacionadas con ocasiones especiales.

Festejamos

cuando alcanzamos nuevas metas.

Festejamos

para celebrar a aquellos que amamos. A veces realizamos una

fiesta

sólo para poder ver a nuestros amigos más cercanos y disfrutar de su compañía! Una buena

fiesta

deja a todos los invitados sintiéndose felices, conectados, y motivados... ¿Te Suena familiar? Hay una razón por la que decimos que Paparazzi te permite vivir de las

Fiestas!



Enero es el momento perfecto para invitar a todos tus conocidos a que se unan a la

Fiesta de Paparazzi

, porque cada Consultor que se inscribe este mes recibirá

accesorios adicionales en todos los Starter Kit totalmente GRATIS!



Preview Pack ($99) - 5 accesorios GRATIS (15% más de productos)
Small Home Party Starter Kit ($299) - 25 accesorios GRATIS (20% más de productos)
Large Home Party Starter Kit ($499) - 50 accesorios GRATIS (25% más de productos)

¡No lo olvides! El Large Home Party Starter Kit incluye un boleto GRATIS para ALL Access, que es la fiesta de Paparazzi más grande del año!

¡Vamos a empezar esta

fiesta!
*La compra del Starter Kit debe realizarse entre las 12:00 AM ET el 1 de enero de 2017 y las 11:59 PM ET del 31 de enero de 2017. Se incluirán piezas adicionales gratuitas en el pedido original. Oferta disponible sólo para los nuevos consultores de Paparazzi.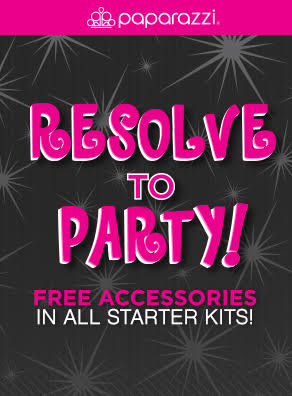 Dine with the Elite
We'll be saving you a seat!
Each year during our annual convention, we invite our Elite to join us for the exclusive dining experience.  This

private, invitation-only event

has become a time to celebrate the past year, talk about the future, and build lasting friendships that continue to grow long after the convention After Party has wrapped. 
 


Have you ever wanted to get a glimpse into the life of the Elite? 


 
Now is your chance to

grab one of the coveted invitations

to this exclusive dining experience by being the

Consultant with the most Personal Volume (PV) during the month of January.

*  Our winner will have the privilege of indulging in a gourmet meal alongside the Paparazzi Elite and all four of the Founders.  And you know the experience just wouldn't be complete without some red-carpet treatment, photo ops, and keepsakes to remember

ALL Access

forever! 
 


We'll be saving you a seat! 
*Personal Volume total will include a Consultant's personal purchases as well as any online retail purchase made through the Consultant's personal replicated website between 12:00 AM ET on January 1, 2017 and 11:59 PM ET on January 31, 2017. In the event of a tie, the Consultant with the highest number of new enrollments during the month of January will be deemed the winner.
Those who achieve the rank of Executive Producer or above by June 30, 2017 will receive an invitation to the Elite Dinner.
Cada año durante nuestra convención anual, invitamos a nuestra Elite a unirse a nosotros para una exclusiva experiencia gastronómica. Este

evento privado, y solo por invitación

, se ha convertido en un tiempo para celebrar el año pasado, hablar sobre el futuro y construir amistades duraderas que continúan creciendo mucho después de se haya terminado la Fiesta Después de la Convención (After Party).



¿Alguna vez has querido echar un vistazo a la vida de la Elite?



Ahora es tu oportunidad de

tomar una de las codiciadas invitaciones

a esta exclusiva experiencia gastronómica por ser

el consultor con el mayor Volumen Personal (PV) durante el mes de enero

* Nuestro ganador tendrá el privilegio de disfrutar de una comida gourmet junto a la Elite de Paparazzi y junto a los cuatro Fundadores. Y bien sabes que la experiencia no sería completa sin un poco de trato de alfombra roja, fotos, y recuerdos para conmemorar

ALL Access

para siempre!



¡Te estaremos reservando un asiento!
*El Volumen personal total incluirá las compras personales de un Consultor así como cualquier compra minorista en línea realizada a través del sitio web replicado personalmente del Consultor entre las 12:00 AM ET del 1 de enero de 2017 y las 11:59 PM ET del 31 de enero de 2017. En el caso de un empate, el Consultor con el mayor número de nuevas inscripciones durante el mes de enero será considerado el ganador.

Aquellos que alcancen el rango de Productor Ejecutivo o superior para el 30 de junio de 2017 recibirán una invitación a la Cena con la Elite.