Rock the Runway
Limited. Exclusive. Jaw-dropping. Unforgettable. Bling.
If you're wondering where the fiercest runway show will be this fall, you better have your sights set on Las Vegas. This August, eight lucky Consultants will get to claim their corner of the catwalk as they kick off the hottest Paparazzi party of the year: ALL Access. As the music thumps, the cameras flash, and the crowd screams, each model will take her turn in the spotlight, decked out in bling as she debuts the highly coveted 2017 Zi Collection.
Not only will our Zi Collection models be the very first to get their hands on these exclusive accessories, their moment in the spotlight will be immortalized as each one is adorned in a necklace from the collection that has been lovingly named after them by the Paparazzi stylists! Our 2017 Zi Collection models will then be forever synonymous with fabulous, as we add their namesake piece to the Paparazzi vault.
What is the Zi Collection?
Limited. Exclusive. Jaw-dropping. Unforgettable. Bling.
The Zi Collection is a Consultant-exclusive line of accessories that can only be found inside the Zi Boutique at Paparazzi's annual convention . It shines a little more brightly, sparkles a little more brilliantly, and flaunts as much attitude as the Consultant who wears it.
Think you have what it takes to strut your stuff on the catwalk ? It's about time you saw your name in lights!
Beginning February 1st, the top two point earners each month through May 31st will be crowned as our 2017 Zi Collection models.* There are many ways to earn points, so work it!
50 points for every personally-sponsored Consultant who registers for ALL Access†

Between 25 and 75 points for enrolling a new Consultant with one of our three Starter Kits:

$99 Preview Pack = 25 points
$299 Small Home Party Starter Kit = 50 points
$499 Large Home Party Starter Kit = 75 points

1 point for every 10 PV – including online customer orders!

10 points for every personally-sponsored, active Consultant within a month††

Between 50 and 150 points for advancing in rank:

Director & Premier Director = 50 points
Executive Director & Producer = 75 points
Premier Producer = 100 points
Executive Producer or above = 150 points

20 points for each successful personally-sponsored Fashion Fix order plus 20 points for your own successful Fashion Fix order. (Note: You must have a personal successful Fashion Fix order to earn points in this category.)
Start practicing that signature strut and get ready to rock the runway. It's time to access your inner rock star and claim your corner of the catwalk!
To see the regularly updated Leaders' Board, check out the 'Rock the Runway' page on the ALL Access website, ALLAccess2017.com.
*Consultants who have achieved a Lifetime Rank of Executive Producer (or above) prior to February 1, 2017 will not be eligible. Additionally, those who have been honored by having a Zi Collection piece named after them in prior years will not be eligible for the 2017 competition. †Points accumulated for each personally-sponsored Consultant who registers for ALL Access will roll over from month-to-month, while all other points will be removed at the beginning of each month.††A Consultant is considered active when he or she accumulates a minimum of 50 PV (25 pieces) during one calendar month. A calendar month begins at 12:00 AM ET on the first day of the month and ends at 11:59 PM ET on the last day of the month. All winning Consultants must be registered for ALL Access by the end of the month in which they win. Points for advancing in rank and personally-sponsored, active Consultants will be added after commissions have been finalized for the month (around the 10th of the following month). A Fashion Fix order is considered successful when it is paid for during processing on the 20th of the month. This requires the Consultant to maintain current, updated billing information on their Fashion Fix profile. To earn points on the successful Fashion Fix orders of your personally-sponsored Consultants, you must have your own personal successful Fashion Fix order process that month.
_______________________________________________________________
Si te estas preguntando dónde estará el desfile con el escenario más feroz de este otoño, será mejor que fijes tu mirada en la deslumbrante ciudad de Las Vegas. Este agosto, ocho afortunadas Consultoras llegarán a reclamar su rincón en la pasarela, al mismo tiempo que dan inicio a la fiesta de Paparazzi más caliente del año: ALL Access. A medida que la música late más a prisa, los flashes de las cámaras se disparen, y la multitud grita eufóricamente, cada modelo tomará su lugar en la pista para ser el centro de atención, adornadas con mucho bling mientras hacen su debut la muy codiciada Colección Zi del 2017.
No solamente nuestras modelos Zi Collection serán las primeras en poner sus manos en estos exclusivos accesorios, sino que además su momento en el centro de la pista será inmortalizado cuando a cada una de ellas se les adorne con un collar de la Colección el cual que ha sido cariñosamente llamado en honor a ellas por los estilistas de Paparazzi! Nuestras modelos de la colección Zi del 2017 serán para siempre sinónimo de fabuloso, ya que añadimos su pieza homónima a la bóveda de Paparazzi.
¿Qué es la Colección Zi?
Limitada. Exclusiva. Jaw-dropping. Inolvidable. Bling.
La Colección Zi es una línea de accesorios exclusiva para las Consultoras y que sólo pueden encontrarse dentro de la Zi Boutique en nuestra Convención anual de Paparazzi. Deslumbra un poco más, es un poco más brillante y hace alarde de tanta actitud cuando una consultor la usa.
¿Crees que tienes lo necesario para desfilar y ser el centro del atención en la pasarela? ¡Es hora de que veas tu nombre en las luces!
A partir del 1 de febrero, los dos líderes con mas puntos en cada mes a través el 31 de mayo serán coronados como nuestros modelos de la Colección Zi 2017. * También, hay una gran variedad de maneras de ganar puntos, así que esfuérzate!
50 puntos por cada Consultor patrocinado personalmente que se registre para ALL Access †

Entre 25 y 75 puntos por inscribir a un nuevo Consultor con uno de nuestros tres Starter Kits:

$99 Preview Pack = 25 puntos
$299 Small Home Party Starter Kit= 50 puntos
$499 Large Home Party Starter Kit= 75 puntos

1 punto por cada 10 PV, ¡incluyendo pedidos de clientes online!

10 puntos por cada Consultor activo y patrocinado personalmente dentro de un mes ††

Entre 50 y 150 puntos por avanzar de Rango:

Director & Premier Director = 50 puntos
Executive Director & Producer = 75 puntos
Premier Producer = 100 puntos
Executive Producer o superior = 150 puntos

20 puntos por cada pedido de

Fashion Fix

patrocinado personalmente y 20 puntos por tu propia orden de Fashion Fix. (Nota: Debe tener una orden de Fashion Fix procesada exitosamente para ganar puntos en esta categoría.)
Empieza a practicar tu pasarela y prepárate para rockear en la pista. Es hora de acceder a tu estrella de rock interior y reclamar tu lugar en la pasarela!
Para ver una actualización regular de la tabla completa de Líderes, echa un vistazo a la página "Rock the Runway" en el sitio web ALL Access, en ALLAccess2017.com.
* Los consultores que hayan obtenido un Rango Vitalicio de Productor Ejecutivo (o superior) antes del 1 de febrero de 2017 no serán elegibles. Además, aquellas que han sido honradas para tener una pieza de Colección Zi nombrada en honor a ellas en años anteriores no serán elegibles para la competencia del 2017.
† Los puntos acumulados para cada Consultor patrocinado personalmente que se registra para ALL Access pasarán de mes a mes, mientras que todos los demás puntos se eliminarán al principio de cada mes.
†† Un consultor se considera activo cuando acumula un mínimo de 50 PV (25 piezas) durante un mes en el calendario. Un mes del calendario comienza a las 12:00 AM ET el primer día del mes y termina a las 11:59 PM ET del último día del mes.
Todos los Consultores ganadores deben estar registrados para ALL Access al final del mes en el que ganan. Los puntos para avanzar en el rango y consultores patrocinados personalmente serán agregados después de que las comisiones hayan sido finalizadas para el mes (alrededor del día 10 del mes siguiente).
Una orden Fashion Fix se considera exitosa cuando se paga durante el procesamiento el día 20 del mes. Esto requiere que el Consultor mantenga la información de facturación actualizada en su perfil de Fashion Fix. Para ganar puntos en las exitosas órdenes de Fashion Fix de sus Consultores patrocinados personalmente, debe de tener una orden de Fashion Fix procesada con éxito durante ese mes.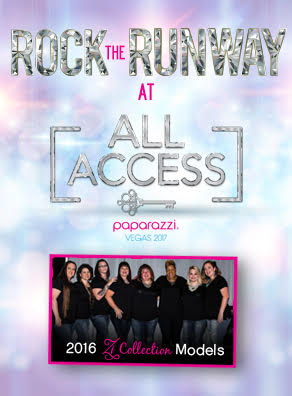 Dine with the Elite
We'll be saving you a seat!
Each year during our annual convention, we invite our Elite to join us for the exclusive dining experience.  This

private, invitation-only event

has become a time to celebrate the past year, talk about the future, and build lasting friendships that continue to grow long after the convention After Party has wrapped. 
 


Have you ever wanted to get a glimpse into the life of the Elite? 


 
Now is your chance to

grab one of the coveted invitations

to this exclusive dining experience by being the

Consultant with the most New Enrollment Volume (NEV) during the month of March.*

*  Our winner will have the privilege of indulging in a gourmet meal alongside the Paparazzi Elite and all four of the Founders.  And you know the experience just wouldn't be complete without some red-carpet treatment, photo ops, and keepsakes to remember

ALL Access

forever! 
 


We'll be saving you a seat! 
*New Enrollment Volume (NEV) is the Personal Volume (PV) total of your newly sponsored Consultants' Starter Kit purchases for the month of March. New Consultants must be enrolled by completing a Starter Kit purchase between 12:00 AM ET on March 1, 2017 and 11:59 PM ET on March 31, 2017 in order to count towards their Sponsor's new enrollment volume. In the event of a tie, the Consultant with the most new enrollments for the month of March will be deemed the winner. Those who achieve the rank of Executive Producer or above by June 30, 2017 will receive an invitation to the Elite Dinner.
Cada año durante nuestra convención anual, invitamos a nuestra Elite a unirse a nosotros para una exclusiva experiencia gastronómica. Este

evento privado, y solo por invitación

, se ha convertido en un tiempo para celebrar el año pasado, hablar sobre el futuro y construir amistades duraderas que continúan creciendo mucho después de se haya terminado la Fiesta Después de la Convención (After Party).



¿Alguna vez has querido echar un vistazo a la vida de la Elite?



Ahora es tu oportunidad de

tomar una de las codiciadas invitaciones

a esta exclusiva experiencia gastronómica por ser

el consultor con el mayor Volumen Personal (PV) durante el mes de enero

* Nuestro ganador tendrá el privilegio de disfrutar de una comida gourmet junto a la Elite de Paparazzi y junto a los cuatro Fundadores. Y bien sabes que la experiencia no sería completa sin un poco de trato de alfombra roja, fotos, y recuerdos para conmemorar

ALL Access

para siempre!



¡Te estaremos reservando un asiento!
*El Volumen personal total incluirá las compras personales de un Consultor así como cualquier compra minorista en línea realizada a través del sitio web replicado personalmente del Consultor entre las 12:00 AM ET del 1 de enero de 2017 y las 11:59 PM ET del 31 de enero de 2017. En el caso de un empate, el Consultor con el mayor número de nuevas inscripciones durante el mes de enero será considerado el ganador.

Aquellos que alcancen el rango de Productor Ejecutivo o superior para el 30 de junio de 2017 recibirán una invitación a la Cena con la Elite.