Can We Get an ENCORE?
What piece do YOU want to bring back?
When you think of your bestselling piece of Paparazzi jewelry, what comes to mind? Can you remember the party you were at when the frenzy began? Do you still receive calls and text messages from your loyal customers, asking if their favorite accessory has returned to your displays? We want to know what pieces YOU think deserve another chance in the spotlight!

Through September 30th, send the name and/or a picture of the accessories you feel deserve an encore to encore@paparazziaccessories.com.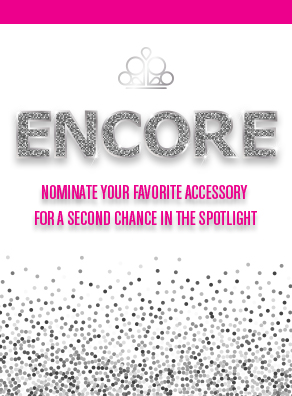 Selfie September
Snap A Selfie & Win!
The paths that lead to Paparazzi are as varied and unique as our Consultants themselves. Some find Paparazzi in their search to fuel their jewelry obsession while others arrive at the house that bling built in hopes of becoming part of something bigger than themselves.
No matter where you are in your Paparazzi journey, we are honored that the ONE life you're leading has crossed paths with ours. Together we're learning to live without regret, embrace what has shaped us, and turn to the future, committed to helping others discover the power that resides within them, and continue to change lives $5 at a time. Because you never know – you could be the ONE person who changes ONE life forever.
During the month of September, we're inviting you to share what you plan to do with your ONE life on social media with the Selfie September Sweepstakes!  Share your plans andwin BIG! Here's how it works!
Print off the official Selfie Septembermessage strip, and fill it out with your own personal touch. What are you going to do during your ONE life?
Fill in the blanks – and don't forget your Consultant ID. Snap a selfie of you wearing Paparazzi and holding the message strip. Let your pets, children, friends, and family support you OFF camera.
Post your selfie on Facebook, Twitter, and/or Instagram using the hashtag: #SelfieSeptember2019 and tag us!
We'll select a random winner EVERY DAY during the month of September. Every selfie you post is another entry into the contest, with our grand prize drawing happening on October 1, 2019.
Our daily winners will receive a never before released piece from our 2019 Fall Collection as well as an item from our ONE Life Paparazzi Boutique!
Our GRAND PRIZE WINNER will receive a "Founders' Picks" gift box valued at over $1,000! Grand prize includes:
Apple AirPods – "So you can dance like everyone is watching!" – Misty
Fitbit Versa – "So you can stay connected on the go!" – Trent
$200 Sephora Giftcard – "So you can treat yourself after all of your hard work!" – Chani
$500 Back Office Credit – "So you can get everything you want on your wishlist!" - Ryan
Are YOU ready to celebrate your ONE life? Show us what you're made of during Selfie September!
Don't forget! Your customers can enter our Selfie September Sweepstakes, too. Just have them follow the instructions above (they can write 'Customer' in the Consultant ID field on the official message strip or leave it blank).  Make sure your posts are public so that we can find you!
Winners must be following Paparazzi Accessories on the social media platform on which they submit their photo.  Multiple entries will be permitted. There will be one winner every day during the month of September and they will be announced Monday through Friday on our official Facebook, Twitter, and Instagram accounts.  Weekend winners will be announced on the following Monday. Daily winners will still be included in the grand prize drawing at the end of the month. Winners should contact us within 24 hours via email at promotions@paparazziaccessories.com to claim their prize.  Actual account holder (18 years of age or older) must be the main subject of the photo submitted in order to be eligible.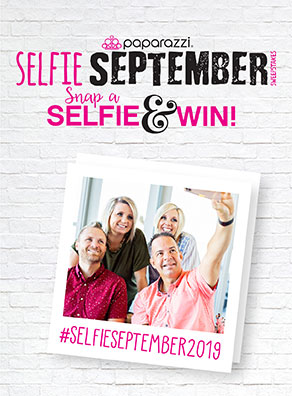 Fall Into Freedom!
FREE pieces in EVERY Starter Kit!
Do you remember opening your Starter Kit? It's nearly impossible to forget such an exhilarating and empowering moment! Not only did you become your own boss that day, but you opened a box of endless potential and gave yourself permission to build the life you've dreamed of. It also puts you in a unique position to be the one who changes someone else's life for the better!
September is the perfect opportunity for you to invite others to FALL into the FREEDOM that Paparazzi has given you because we're including FREE pieces from the 2019 Fall Collection in every Starter Kit!
Preview Pack ($99) – 5 Free Accessories
Small Home Party Starter Kit ($299) - 10 Free Accessories
Large Home Party Starter Kit ($499) - 20 Free Accessories
No matter what your Starter Kit represents to you, it's time to share the opportunity with those around you and invite them to FALL into FREEDOM!
Starter Kit purchase must be made between 12:00 AM ET on September 1, 2019 and 11:59 PM ET on September 30, 2019. Free accessories will be included in the original order. Offer only available to new Paparazzi Consultants.